Oncology
All material contained in this page is for informational purposes for healthcare professionals
Extracorporeal Photopheresis (ECP)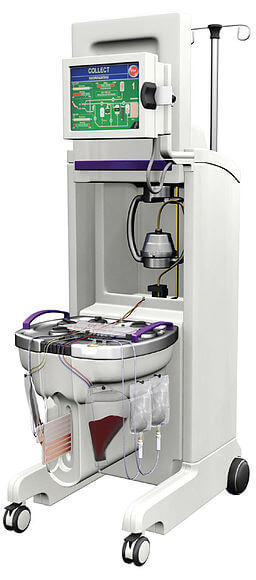 Therakos therapeutic platforms, including the latest generation THERAKOS® CELLEX® Photopheresis System, are the world's only approved fully-integrated systems for administering autologous immune cell therapy through Extracorporeal Photopheresis (ECP). Our systems are used by academic medical centers, hospitals, and treatment centers in more than 30 countries and have already delivered over one million treatments globally.
CELLEX® System
The CELLEX® System, our latest-generation photopheresis platform, combines state-of-the-art cell collection, photoactivation, and reinfusion technologies in a single, integrated and closed system. The integrated and closed-system design allows for single-operator management of the photopheresis process intended to reduce the risks of infection, cross-contamination and patient reinfusion errors. The CELLEX® System also cuts treatment time in half, from 3 hours to 1.5 hours.
Designed in response to feedback from clinicians, the CELLEX® System features:
Advanced and single-harvest centrifuge design with continuous separation

Flexible treatment options, including customized fluid management and single- or double-needle mode, for varying patient needs. Double-needle mode for reducing treatment time by about 30 minutes

Patented algorithm to automate cell collection and optimize UVA activation of cell product

Single use and sterile procedural kit for easy set up and minimal waste

Highly visible and multilingual interactive display to enhance operation and training

Automated sensors and flow rate to optimize collection photoactivation time

Automated safety features (including air emboli detector, audible alarms and message display for specific alarm status and line occlusion of all fluid lines)
For more information, please don't hesitate to contact us or THERAKOS website www.therakos.com
Please contact us for detailed information!